Surgical Planning and Procedures
Manejo de Rebordes Atróficos con ROG
El Dr. Polido describe a través de la presentación y resolución de tres casos clínicos, las distintas técnicas quirúrgicas existentes en el manejo de rebordes atróficos con Regeneración ósea Guiada y sus indicaciones. La tabla de riesgo estético (ITI Treatment Guide – 2007) es el primer punto que desarrolla el autor con todo detalles. Utilizando muy buen soporte didáctico, da énfasis en el conocimiento de la cicatrización alveolar postextracción con la consiguiente reducción de las tablas vestibular y lingual o palatina. A fin de asegurar la posición 3D de los implantes a colocar, varios son los factores importantes a tener en cuenta; los implantes de diámetro reducido y la regeneración ósea guiada y la experiencia del operador juegan un rol fundamental en el pronóstico a largo plazo de los resultados estéticos obtenidos.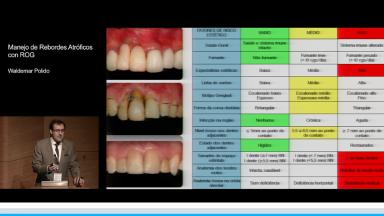 Al finalizar esta conferencia, el profesional deberá ser capaz de...
evaluar cuidadosamente los factores de riesgo, como son el conocimiento de las limitaciones, el diálogo con el paciente y el tratamiento personalizado
conocer la biología de la cicatrización ósea
descubrir la posición 3D de los implantes, asícomo la utilización de implantes de diámetro reducido
entender que los tratamientos de aumento óseo dependen del cirujano así como de los materiales
Duration

45 minutes

Source

Congreso Nacional ITI de Chile 2015

CPD/CME

0.77 hours

Purchase price

28 Academy Coins
Share this page
Download the QR code with a link to this page and use it in your presentations or share it on social media.
Download QR code