Surgical Planning and Procedures
Maintenance of the Ridge Post-Extraction
This lecture summarizes the morphological changes that follow tooth extraction and gives hints on how to minimize atrophy of the bony walls using atraumatic techniques and selected filling materials. Dr. Chen provides research evidence for various ridge preservation techniques and shares the characteristics of an ideal filling material. He also presents the clinical indications for each technique, including post-extraction ridge maintenance, immediate (Type 1) implant placement, and ridge reconstruction.
Finally, Dr. Chen presents, step by step, clinical cases of ridge preservation in an anterior and a posterior site.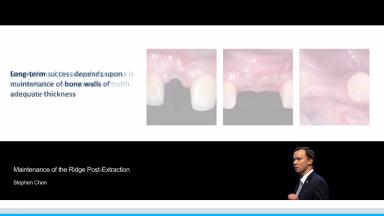 At the end of this Congress Lecture you should be able to...
describe the morphological changes of the alveolar walls after tooth extraction
describe the effect of different filling materials on the bone resorption
choose the optimal technique to minimize the resorption process
Duration

23 minutes

Source

ITI World Symposium 2014

CPD/CME

0.38 hours

Purchase price

0 Academy Coins
Share this page
Download the QR code with a link to this page and use it in your presentations or share it on social media.
Download QR code