Treatment Outcomes and Continuing Care
Langzeitresultate der peri-implantären Gewebe: biologisch und ästhetisch
Diese Präsentation gibt einen Überblick über den Langzeiterfolg unserer Konzepte zur Regeneration von periimplantären Geweben. Dabei gilt es zum einen biologische und zum anderen auch ästhetische Punkte zu beachten. Es werden die vier benötigten Schritte zur Regeneration von periimplantären Geweben betrachtet: 1) Implantat; 2) Hartgewebe / Knochen; 3) Weichgewebe; 4) Ästhetik.
Die Langzeitüberlebensraten von Implantaten sind sehr gut, allerdings verfügen nur wenige Implantatsysteme über eine gute Langzeitdokumentation. Das heisst, dass viele Systeme ohne dokumentiertes Langzeitverhalten auf dem Markt erhältlich sind.
Es wird über das Langzeitverhalten beim Aufbau von Hart- und Weichgewebe gesprochen, sowie über Membrantypen und Knochenersatzmaterialien und deren wissenschaftliche Dokumentation bei der gesteuerten Knochenregeneration (GBR).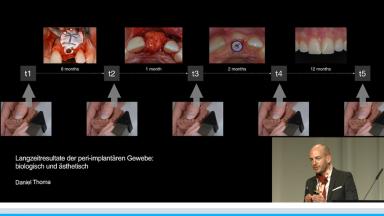 Am Ende dieser Präsentation sollten sie:
die Überlebensraten von Implantaten über 10 Jahre kennen
wissen, welche Implantatsysteme und Regenerationsmaterialien (Membranen und Knochenersatzmaterialien) eine gute Langzeitdokumentation haben
die Volumenanteile benennen können, die Weichgewebe und Knochen bei einem Aufbau von Hart- und Weichgebewebe um ein Implantat ausmachen
Duration

27 minutes

Source

ITI Kongress Schweiz, 2015

CPD/CME

0.45 hours

Purchase price

14 Academy Coins
Share this page
Download the QR code with a link to this page and use it in your presentations or share it on social media.
Download QR code