Prosthodontic Planning and Procedures
La Zircone en prothèse fixée: notions essentielles sur ce matériau
Cette présentation aborde les aspects biomécaniques du matériau Zircone dans ses applications en implantologie et en prothèse fixe. Une attention particulière est portée au rappel des propriétés intrinsèques de ce biomatériau au sein de la famille céramique. À travers une belle série d'images prises sous microscope à balayage électronique, le Dr Scherrer apporte des informations essentielles sur l'influence des différentes étapes de la fabrication (fabricant, laboratoire, usinage) et de la retouche (prothésiste, chirurgien-dentiste) dans le processus de développement de fractures. Les résultats des recherches in vitro dans le domaine amènent à un certain nombre de recommandations en clinique et au laboratoire qui sont détaillées dans le contenu de cette présentation.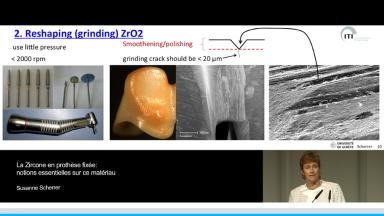 À la fin de cette présentation, vous devriez être en mesure:
de comprendre les propriétés mécaniques des matériaux Céramique et de la Zircone
d'identifier les étapes de traitement de la Zircone pouvant être responsables de la création de microfissures
de suivre les recommandations et diminuer les conduites à risque lors des étapes pré-cliniques et clinique de manipulation de la zircone
Duration

31 minutes

Source

Congrès ITI Suisse 2015

CPD/CME

0.52 hours

Purchase price

16 Academy Coins
Share this page
Download the QR code with a link to this page and use it in your presentations or share it on social media.
Download QR code