Prosthodontic Planning and Procedures
La planification de la réhabilitation implanto-prothétique du patient totalement édenté
Le Dr Didier Eycken, s'attache à tous les chapitres de sa présentation de contextualiser le patient édenté complet en fonction de sa singularité selon les principes actuels du « Patient-centered outcomes ». Après un rappel des repères et références anatomiques, l'essentiel est consacré à la planification du traitement de l'édenté complet, illustré de cas cliniques symptomatiques. La santé parodontale du patient, dont l'altération est souvent la cause des édentements, est décrite longuement. Dans un long chapitre dédié à la personnalisation du traitement prothétique et chirurgical, il confronte de façon critique, le traitement personnalisé vs les protocoles standardisés « passe-partout ». Basés sur les données actuelles de la dentisterie gériatrique il nous offre une mise en perspective des traitements actuels dans le futur des patients vieillissant.
A partir des conférences de Consensus de l'ITI et des Guides de Traitements ITI, le Dr Didier Eycken propose une planification thérapeutique des patients édentés complets conduite en fonction du projet prothétique. Les différentes alternatives sont décrites et illustrées.
Enfin, la radiologie tridimensionnelle est explorée de façon exhaustive et permet de définir les critères de risques en chirurgie implantaire.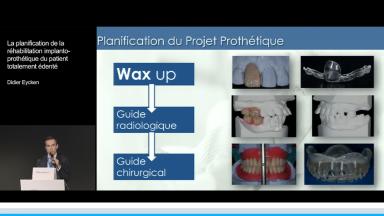 À la fin de cette présentation, vous devriez être en mesure…
de connaitre les critères d'évaluation fonctionnels et esthétiques pour définir la planification du traitement d'un édenté complet
de proposer un choix prothétique raisonné en fonction de la spécificité du patient concerné
d'intégrer le patient dans l'analyse de ses besoins et le choix de la prothèse qui lui convient
avec l'imagerie médicale adaptée, d'établir les critères de risques du traitement implantaire
Duration

44 minutes

Source

ITI Congress Francophone 2018

CPD/CME

0.73 hours

Purchase price

22 Academy Coins
Share this page
Download the QR code with a link to this page and use it in your presentations or share it on social media.
Download QR code