Surgical Planning and Procedures
Keramikimplantate in der klinischen Bewährung
Dr. Gahlert gibt einen umfassenden Überblick über die verschiedenen Generationen von Keramikimplantaten, beginnend mit der 1. Generation der einteiligen Keramikimplantate (Z-Systems), die in der Klinik nur teilweise überzeugen konnten, über ein 2-teiliges Implantatsystem (Z-Systems) bis zum Monotyp Keramikimplantat der Firma Straumann als Kombination der Bone Level Implantatwindungen und des Tissue-Level Prinzips mit mikrorauer Oberfläche.
Dr. Gahlert fasst aktuelle Studien zu allen Generationen der Keramikimplantate zusammen, veranschaulicht aber auch warum sie bisher die Titanimplantate nicht ersetzen konnten. Eindrucksvolle Videosequenzen aus seiner klinischen Praxis veranschaulichen die Insertion, provisorische Versorgung, Abdrucknahme und definitive Versorgung der Keramikimplantate und liefern jedem Praktiker wertvolle Informationen zum klinischen Ablauf.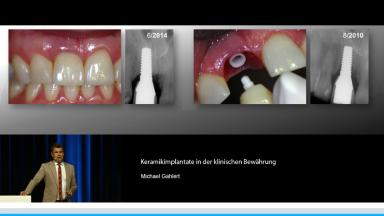 Nach dieser Vorlesung sollten Sie:
Einen Überblick zur Entwicklung der Keramikimplantate erhalten haben
Die klinische Bewährung der Keramikimplantate bewerten können
Den chirurgischen und prothetischen Ablauf bei der Versorgung mit Keramikimplantaten kennen
Duration

48 minutes

Source

ITI Kongress Deutschland, 2015

CPD/CME

0.8 hours

Purchase price

24 Academy Coins
Share this page
Download the QR code with a link to this page and use it in your presentations or share it on social media.
Download QR code