Prosthodontic Planning and Procedures
Keramik in der Implantatprothetik – Neue Möglichkeiten und Grenzen
Der Vortrag gibt eine strukturierte Übersicht zu den dentalen Keramiken mit materialkundlichen Hintergrundinformationen und starkem Fokus auf die klinische Anwendung. Es wird der ideale Einsatz von Lithiumdisilikat und Zirkonoxid besprochen, sowie die empfohlene zahntechnische Verarbeitung und Gestaltung. Auch wird auf den korrekten Umgang in der Praxis hingewiesen, vom Anätzen, über die bevorzugte Befestigungsart, bis zum richtigen Vorgehen beim Einschleifen. Vor- und Nachteile von monolithischen Rekonstruktionen, wie auch von zementierten oder verschraubten Versorgungen werden aufgezeigt. Schliesslich wird auf die verschiedenen Abutmenttypen eingegangen und es werden klinische Überlebensraten von Implantatversorgungen präsentiert.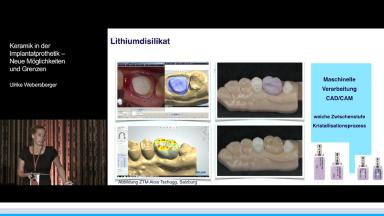 Nach diesem Vortrag sollten Sie…
die Einteilung der dentalen Keramiken und deren Einsatz in der klinischen Anwendung kennen
über die korrekte Verarbeitung und Gestaltung von Zirkonoxid Bescheid wissen
die empfohlene Okklusionsgestaltung in der Implantatprothetik kennen
Vor- und Nachteile von monolithischen, verschraubten und zementierten Rekonstruktionen kennen
über die verschiedenen Abutmenttypen Bescheid wissen
Duration

43 minutes

Source

ITI Congress Austria

CPD/CME

0.73 hours

Purchase price

22 Academy Coins
Share this page
Download the QR code with a link to this page and use it in your presentations or share it on social media.
Download QR code