Prosthodontic Planning and Procedures
Karmaşık İmplant Vakalarında Protetik Çözümler
Bu konferansta Dr. Uçar, karmaşık implant vakalarında ileri cerrahiye alternatif olarak seçilebilecek, daha pratik protetik çözümler hakkında bilgiler veriyor.
Sunumda; karmaşık vakaların bazılarında ileri cerrahi yöntemlere başvurmadan dar ve kısa implantlarla tedavinin, overdenture ya da hibrid protezler yapmanın ve son olarak da, aşırı kemik kaybı durumlarında pembe beyaz kombine tedavilerle çözüm aramanın, kolaylıkları ve yararları üzerinde durulmaktadır.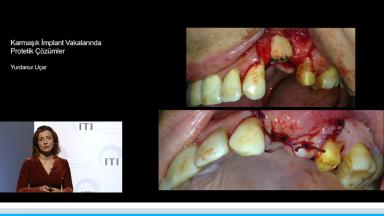 Bu konferansın dinlenmesiyle, dişhekimleri aşağıda belirtilen ana başlıklarda bilgi sahibi olurlar:
Karmaşık vakalarda protetik tercihler
Kısa İmplantlar
Dar çaplı implantlar
Overdenture protezler
Hibrid protezler
Duration

23 minutes

Source

ITI Congress Turkey & Azerbaijan 2016

CPD/CME

0.4 hours

Purchase price

12 Academy Coins
Share this page
Download the QR code with a link to this page and use it in your presentations or share it on social media.
Download QR code