Introduction to Implant Dentistry
ITI kontrovers - Biologische Grenzen oder grenzenlose Regeneration?
Geklärt werden sollen die Möglichkeiten, Optionen und Limitationen der oralen Regeneration, wie vielfältig diese sein können und was es zu beachten gilt. Es geht um die orale Regeneration als "neuer Goldstandard" und die Frage, ob hier die Wertigkeit nicht überschätzt wird. Dazu soll geklärt werden, ob Zahnärzte außerhalb der ehemaligen Knochenkontur überhaupt (noch) regenerativ tätig werden sollten und ob zu komplexe Ausgangssituationen eine regenerative Tätigkeit schwierig bis unmöglich machen. Weiterhin geht es um die These, dass ohne feste Kriterien eine regenerative Behandlung nicht zum Erfolg führen wird.
Darauf werden vier namhafte Referenten stichhaltige Antworten liefern und unterschiedliche Standpunkte einnehmen. Bereichert wird die Diskussion durch Videoeinspielungen von PD Dr. mult. Peer Kämmerer, Prof. Dr. Christian Mertens und Prof. Dr. Dr. Hendrik Terheyden.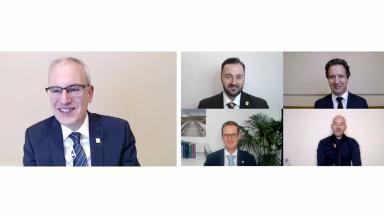 Nach diesem Beitrag sollten Sie…
den aktuellen Stand der Evidenz zum Thema Orale Regeneration diskutieren können und die biologischen Grenzen der oralen Regeneration kennen

erläutern können, welche Faktoren bei der oralen Regeneration relevant sind (z.B. Patientenauswahl, Wahl der Augmentationstechnik, Weichgewebsmanagement, Wundmanagement etc.)

erkennen können, ob die orale Regeneration langfristig entscheidend ist für den Erfolg der Implantologie
Duration

91 minutes

Source

ITI kontrovers – Das Online Symposium 2020

CPD/CME

0 hours

Purchase price

0 Academy Coins
Share this page
Download the QR code with a link to this page and use it in your presentations or share it on social media.
Download QR code