Treatment Outcomes and Continuing Care
Is Keratinized Mucosa around Implants Important?
Patients with inadequate attached keratinized tissue often complain of pain and soreness when performing oral hygiene measures in comparison to patients with adequate keratinized tissue. Lack of keratinized tissue impedes proper oral hygiene leading to plaque accumulation, recession and compromised esthetics - even when patients present with good oral hygiene and are enrolled in a strict supportive and maintenance care program.
This presentation discusses recent studies showing that - although there are no minimum dimensional requirements - attached keratinized tissue is essential to facilitate oral hygiene measures and the long-term maintenance of implants.
The use of free gingival grafts in select cases is also discussed. Examples include patients who experience pain and soreness whilst performing oral hygiene measures as well as cases where better plaque control may be achieved by improved gingival topography. Free gingival grafts are also indicated where bone augmentation procedures are anticipated or cases where there is a risk of further loss of attachment leading to an esthetic compromise.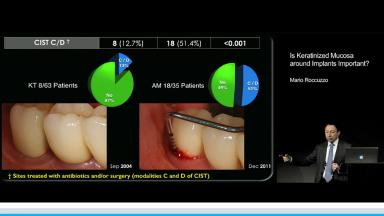 At the end of this Congress Lecture you should be able to…
differentiate anecdotal information versus data with respect to the need for keratinized tissue around implants
recognize the importance of adequate attached keratinized tissue around implants for long-term implant maintenance, functionality, and esthetics
identify cases that require the need for free gingival grafts around implants
Duration

40 minutes

Source

ITI Congress Brazil 2018

CPD/CME

0.67 hours

Purchase price

20 Academy Coins
Share this page
Download the QR code with a link to this page and use it in your presentations or share it on social media.
Download QR code