Structured Assessment and Treatment Planning
Importancia de los Bifosfonatos en la Toma de Decisiones
Esta conferencia ofrece una visión actualizada general, acerca de la importancia de los bifosfonatos en el proceso de toma de decisiones del tratamiento implantológico. Se recogen aspectos tales como el concepto de osteonecrosis por bifosfonatos, su incidencia, factores de riesgo que pueden modificar la frecuencia de aparición de este proceso y finalmente el diagnóstico y tratamiento de esta patología; todo ello expuesto de una manera concisa y clara, haciendo especial énfasis en la clasificación de estas lesiones en relación al tratamiento necesario para cada caso.
Esta conferencia aporta todos aquellos fundamentos que el clínico debe conocer sobre la osteonecrosis mandibular inducida por bifosfonatos.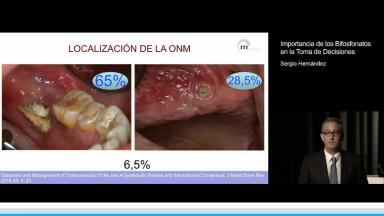 Tras la visualización de esta presentación, debería ser capaz de:
Reconocer y diagnosticar las lesiones orales de osteonecrosis por bifosfonatos
Saber qué fármacos están relacionados con esta patología
Cómo manejar estas lesiones en la consulta
Diseñar un protocolo de actuación en la consulta a fin de evitar la aparición de estas lesiones
Duration

49 minutes

Source

Congreso Ibérico ITI 2015

CPD/CME

0.83 hours

Purchase price

25 Academy Coins
Share this page
Download the QR code with a link to this page and use it in your presentations or share it on social media.
Download QR code