Structured Assessment and Treatment Planning
Implants in Periodontal Patients
This lecture presents an overview of factors important to achieve predictable long-term results with implant therapy in patients with aggressive periodontitis and is based on a study of 23 patients followed for 7 to 10 years. The importance of preoperative infection control is underlined, with the aim to achieve absence of residual pockets of ≥ 5 mm with bleeding on probing, full-mouth plaque score < 20%, and the extraction of non-retainable teeth. The complexity of treating these patients is often increased by the indication of staged and/or simultaneous bone grafting procedures. By adhering to a strict preoperative infection control and meticulous treatment planning, a high implant survival rate of 98% was achieved after 7 to 10 years.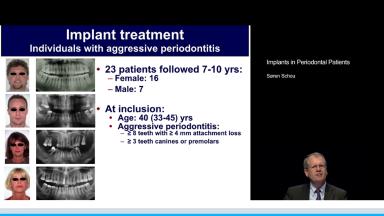 At the end of this Congress Lecture you should be able to…
recognize the importance of evaluating the periodontal status of the entire dentition prior to planning placement of dental implants
define the level of infection control needed before implant placement is considered
recognize the complexity of implant therapy in patients with aggressive periodontitis
Duration

31 minutes

Source

ITI World Symposium 2014

CPD/CME

0.51 hours

Purchase price

15 Academy Coins
Share this page
Download the QR code with a link to this page and use it in your presentations or share it on social media.
Download QR code