Structured Assessment and Treatment Planning
Implantologie im parodontal kompromittierten Gebiss – Alte und neue Erkenntnisse
Prof. Lang räumt in seiner gewohnt charmanten und unterhaltsamen Art mit den antiquierten Paradigmen der Implantatzahnheilkunde auf. Einleuchtend stellt er dar, dass noch immer jeder Parodontalpatient ein Risiko für eine erfolgreiche Implantatbehandlung ist. Probleme, Ursachen und Konsequenzen und Lösungen werden erläutert und durch Studien bestätigt. Abschliessend veranschaulicht er anhand eines ausführlichen Fallbeispiels die systematische Vorgehensweise bei einem parodontal kompromittierten Patienten (Diagnostik, Hygienephase, Korrektive Phase), die Voraussetzung für eine erfolgreiche Implantation ist.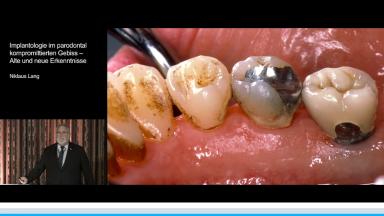 Nach diesem Vortrag sollten Sie…
erklären können, warum Implantate eine regelmäßige Betreuung benötigen
wissen, dass Periimplantitis eine rasch fortschreitende Erkrankung ist, die ein sofortiges Eingreifen erfordert
verstehen, dass die Vermeidung peri-implantärer Infektionen nur durch systematische parodontale Vor-und Nachbehandlung (Betreuung) möglich ist
Duration

63 minutes

Source

ITI Congress Austria 2016

CPD/CME

1.07 hours

Purchase price

32 Academy Coins
Share this page
Download the QR code with a link to this page and use it in your presentations or share it on social media.
Download QR code