Structured Assessment and Treatment Planning
Implantaterfolg durch präimplantologische radiologische Diagnostik
Der von den Professoren Dula und Bornstein gemeinsam bestrittene Vortrag setzt sich kritisch und sehr übersichtlich mit dem Einsatz eines digitalen Volumentomogramms (DVT) in der Implantologie auseinander. Dabei werden die Ziele der präimplantologischen radiologischen Diagnostik formuliert sowie relevante Faktoren, wie Strahlenbelastung, Forensik und Trends erörtert.
Das DVT wird einer konventionellen 2-dimensionalen Diagnostik mittels Orthopantomogramm gegenübergestellt. Anhand von 2 klinischen Fallbeispielen wird der Einsatz eines DVTs praxisnah diskutiert.
Die Referenten demonstrieren postoperative Komplikationen, die bei unzureichender Implantatplanung auftreten können.
Es werden Richtlinien für die 3-dimensionale Bildgebung in der Implantologie präsentiert, welche auf aktuellen wissenschaftlichen Daten basieren.
Zum Schluss werden Empfehlungen der radiologischen Diagnostik bei Therapieplanung und Nachsorge sehr schön graphisch dargestellt, die für den Behandler zur Erzielung eines Implantaterfolges hilfreich sein sollen.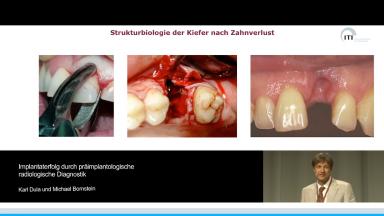 Nach diesem Vortrag sollten Sie:
die Vor- und Nachteilen eines DVTs und dessen optimale Durchführung erklären können
die richtige Indikationsstellung für ein DVT kennen
mit der aktuellen Evidenzlage auf diesem Gebiet vertraut sein
die aktuellen Richtlinien der 3-dimensionalen Bildgebung in der Implantologie kennen
Duration

34 minutes

Source

ITI Kongress Schweiz, 2015

CPD/CME

0.57 hours

Purchase price

17 Academy Coins
Share this page
Download the QR code with a link to this page and use it in your presentations or share it on social media.
Download QR code