Surgical Planning and Procedures
Implant Surface Characteristics and Osseointegration in Systemically Compromised Conditions
Based on a short general introduction to the evolution of implant surfaces and their effect on rate and eventual amount of osseointegration, this lecture provides information about the accelerating effect of modifying moderately rough 3rd generation implant surfaces. An animal model is presented, where induced osteoporosis in sheep can be used to study osseointegration under compromised conditions. Furthermore, osseointegration data from an animal model where diabetes I-like conditions were induced in rats are presented. In calvarial defects, a chemically modified implant surface is demonstrated to have an anti-inflammatory effect on the surrounding tissues including bone compared to a non-modified implant surface. The effect on macrophages in particular is emphasized.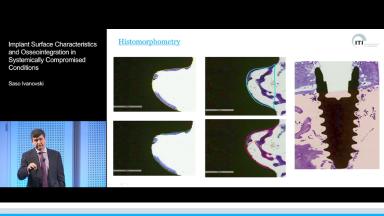 At the end of this Congress Lecture you should be able to…
understand the effect of the evolution of implant surface topography on osseointegration over time
recognize the occurrence of compromised bone conditions for osseointegration as related to osteoporosis and diabetes
acknowledge the preclinical data to support that implant surface modifications may accelerate osseointegration under compromised conditions
Duration

26 minutes

Source

ITI Congress Australasia 2016

CPD/CME

0.43 hours

Purchase price

13 Academy Coins
Share this page
Download the QR code with a link to this page and use it in your presentations or share it on social media.
Download QR code