Prosthodontic Planning and Procedures
Implant Prosthodontics: Key Factors for Long-term Success
Dental implants are designed to provide support, stability, and retention for dental prostheses. In addition, implants have evolved to enable optimal esthetic and functional outcomes for patients seeking dental rehabilitation for a variety of indications. This lecture focuses on optimizing prosthodontic outcomes for patients via a systematic and evidence-based team approach to treatment. This includes contemporary treatment planning with an emphasis on communication of ideal implant placement; choice of implants, components, and restorative biomaterials to minimize complications; and prosthesis design and maintenance options to enhance longevity.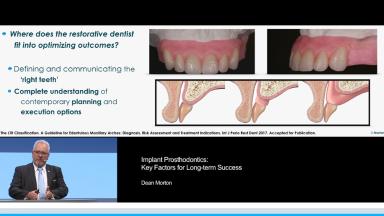 At the end of this Congress Lecture you should be able to…
explain the importance of a team approach to comprehensive implant-based therapy and its influence on prosthodontic quality and predictability
recognize contemporary implant and prosthodontic components and their influence on ability to achieve optimal prosthodontic outcomes
apply contemporary evidence-based prosthodontic protocols to comprehensive treatment strategies for a range of partially and completely edentulous indications
Duration

30 minutes

Source

ITI World Symposium 2017

CPD/CME

0.5 hours

Purchase price

15 Academy Coins
Share this page
Download the QR code with a link to this page and use it in your presentations or share it on social media.
Download QR code