Prosthodontic Planning and Procedures
Implant Prosthodontics in the Esthetic Zone: Where Are We Today?
This lecture discusses the prosthodontic treatment of implant restorations in the esthetic zone utilizing early implant placement with bone level implants and simultaneous guided bone regeneration (GBR). A key concept is that by utilizing preoperative esthetic risk assessment, simultaneous bone contour augmentation and careful treatment protocol we can achieve esthetic implant restorations. The focus of this lecture is the long-term esthetic results in implant-supported restorations, in particu-lar, the upper central incisors using bone level implant design. These results clearly show that osseointegration can be a stable process over time, but small alterations of the peri-implant tissue can occur due to changes to the adjacent dentition, such as continuous den-toalveolar growth and tooth movement. The lecture concludes with clinical presentations of long-term esthetic results of single implant-supported restorations replacing an upper central incisor; and adjacent implant restorations replacing two upper central incisors.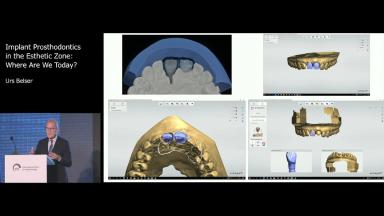 At the end of this Congress Lecture you should be able to…
describe the current standard of an esthetic implant restoration

recognize the risk assessment of patients with missing teeth in the esthetic zone

discuss the prosthodontic treatment protocol for restoring implants in the esthetic zone

discuss the possible long-term changes with implant restorations in the esthetic zone
Duration

56 minutes

Source

ITI Congress India 2019

CPD/CME

0.93 hours

Purchase price

28 Academy Coins
Share this page
Download the QR code with a link to this page and use it in your presentations or share it on social media.
Download QR code