Surgical Planning and Procedures
Implant Dimensions – Choice of Implant Length and Diameter
When severely atrophic jaws are encountered, many different implant-prosthetic approaches have been used to address this condition. The more-aggressive protocols call for bone grafting followed by placement of standard-diameter endosseous implants. This presentation focuses on clinical applications of implants with reduced dimensions. In the setting of reduced alveolar bone height, short dental implants offer clinicians a pragmatic option to facilitate prosthetic restoration when confronted with anatomic limitations. When short implants are employed, implant design and surface properties become very important. Likewise, diameter-reduced implants must be used judiciously to avoid complications.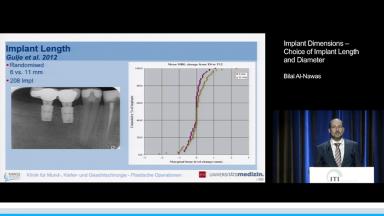 At the end of this Congress Lecture you should be able to…
recognize the advantages and limitations of short and diameter-reduced implants
define the implant length and diameter that qualify as a 'short implant' and 'diameter-reduced implant' respectively
describe indications in which short and/or diameter-reduced implants should be used
explain how overload affects implant survival
Duration

41 minutes

Source

ITI Congress Middle East 2015

CPD/CME

0.7 hours

Purchase price

21 Academy Coins
Share this page
Download the QR code with a link to this page and use it in your presentations or share it on social media.
Download QR code