Surgical Planning and Procedures
Hard and Soft Tissue Management in the Esthetic Zone – Part II
This presentation follows Part I by the same speaker, which focused on timing and soft tissue management for esthetic and posterior areas. Part II focuses on bone augmentation procedures in simultaneous and staged applications for single-tooth cases and partially edentulous patients. This lecture discusses specific indications for different bone augmentation procedures as well as a rationale for selecting a particular technique depending on the clinical situation. The practical approach advocated in this presentation includes both 'preferred' and 'alternative' treatment approaches.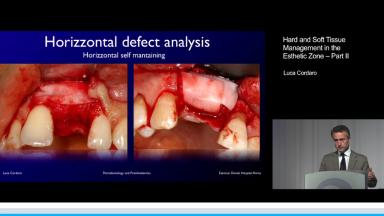 At the end of this Congress Lecture you should be able to…
recognize indications for bone grafting in relation to implant placement
describe timing and techniques utilized for bone grafting
identify degree of complexity and possible complications when performing bone grafts
Duration

46 minutes

Source

ITI Congress Norway & Sweden 2016

CPD/CME

0.77 hours

Purchase price

23 Academy Coins
Share this page
Download the QR code with a link to this page and use it in your presentations or share it on social media.
Download QR code