Structured Assessment and Treatment Planning
Fixed or Removable - Diagnosis and Treatment Options
Restoring the edentulous maxilla with a fixed dental prosthesis or a removable overdenture is a complex and challenging procedure. The crucial factors are discussed involved in deciding whether a fixed or removable prosthesis should be planned in fulfilling the patient's preference for optimal esthetics, phonetics, comfort and function.
A treatment planning concept is presented which enables the practitioner to check the decisive parameters during the first examination and to take the final decision with the help of the reformatted CT-scan.
Implant placement in accordance with the selected prosthetic solution and avoidance of any compromised solutions can be attained when following this treatment plan which has been tested clinically.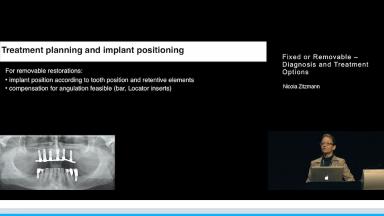 Duration

52 minutes

Source

ITI Congress Australasia 2013

CPD/CME

0.86 hours

Purchase price

26 Academy Coins
Share this page
Download the QR code with a link to this page and use it in your presentations or share it on social media.
Download QR code