Surgical Planning and Procedures
Fiabilité de la chirurgie guidée par CAD-CAM et mise en charge immédiate
Cette présentation traite de la fiabilité de la chirurgie implantaire par CAD-CAM et de son utilisation pour la mise en charge immédiate. Les évolutions technologiques permettent d'aller de plus en plus loin dans la chaine du numérique appliquée en implantologie. Cependant, nous savons à l'heure actuelle qu'il existe des imprécisions en chirurgie implantaire guidée. Dr Chrabieh expose les différents paramètres d'erreurs et dans quelle mesure ils peuvent influencer le résultat final. Enfin il détaille son protocole d'étude en cours d'élaboration afin de comparer deux types de design implantaires utilisés en mise en charge immédiate selon le protocole de chirurgie implantaire guidée en flux complet.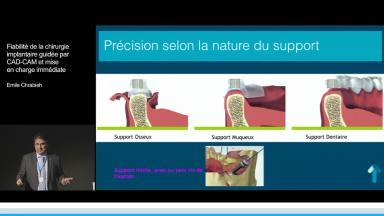 A la fin de la présentation, vous devriez être en mesure...
de décrire les différentes étapes du flux numérique en chirurgie implantaire : en technique partielle et complète
de déterminer et de quantifier les facteurs d'erreurs pouvant influencer la technique de chirurgie guidée
de poser l'indication d'une chirurgie guidée en fonction des cas cliniques
Duration

55 minutes

Source

ITI Congress Francophone 2018

CPD/CME

0.93 hours

Purchase price

28 Academy Coins
Share this page
Download the QR code with a link to this page and use it in your presentations or share it on social media.
Download QR code