Treatment Outcomes and Continuing Care
Facteurs de risques biologiques
Cette présentation détaille les facteurs de risque biologiques locaux et généraux des péri-implantites qui sont les principales sources de complications et d'échecs implantaires après 5 ans de mise en fonction des implants.
Dans un premier temps, l'étiopathogénie ainsi que la prévalence des maladies péri-implantaires sont rappelées, puis les critères de diagnostic des mucosites et des péri-implantites sont décrits : en dehors des examens radiologiques, ce sont des critères cliniques facilement identifiables lors des visites régulières de maintenance.
Les facteurs de risque biologiques locaux sont en rapport direct avec la qualité de l'hygiène orale, la santé parodontale, le biotype muqueux et certains paramètres prothétiques. Les facteurs de risque généraux sont principalement liés au diabète et au tabagisme, mais aussi à certaines maladies inflammatoires chroniques.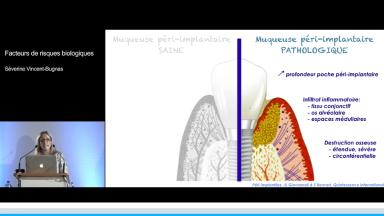 À la fin de cette présentation, vous devriez être en mesure...
de comprendre l'étiopathogénie des maladies péri-implantaires
de diagnostiquer une maladie péri-implantaire
de différencier une mucosite d'une péri-implantite
de connaître les facteurs locaux et généraux d'apparition des péri-implantites
Duration

27 minutes

Source

ITI Congress France 2016

CPD/CME

0.47 hours

Purchase price

14 Academy Coins
Share this page
Download the QR code with a link to this page and use it in your presentations or share it on social media.
Download QR code