Surgical Planning and Procedures
Extraction pré-implantaire: que faire de l'alvéole vide?
Après avoir fait une revue exhaustive de la littérature sur les principes biologiques conduisant à la résorption des tables osseuses alvéolaires après une extraction, Mark Bischof aborde l'historique des techniques qui ont été proposées depuis 20 ans pour préserver l'intégrité et l'apparence des tissus osseux et muqueux dans le cadre de réhabilitations prothétiques implant-portées. Reposant sur la littérature, il nous propose une lecture critique et argumentée des différentes options qui seront illustrées de cas cliniques démonstratifs.
Des critères objectifs d'évaluation sont proposés pour appréhender l'impact tissulaire d'une extraction.
Enfin, rappelant les guidelines de l'ITI, il nous énonce les protocoles utilisés dans son exercice.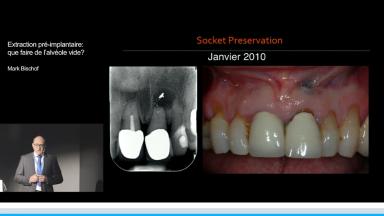 À la fin de cette présentation, vous devriez être en mesure…
de connaitre les principes biologiques du processus de résorption alvéolaire post extractionnel
d'apprécier de façon critique les techniques de préservation tissulaire
de définir le moment opportun de pose des implants selon des critères objectifs
Duration

38 minutes

Source

ITI Congress Francophone 2018

CPD/CME

0.63 hours

Purchase price

19 Academy Coins
Share this page
Download the QR code with a link to this page and use it in your presentations or share it on social media.
Download QR code