Prosthodontic Planning and Procedures
Evidenz prothetischer Verbindungselemente
Nach einer Einführung zum Thema Evidenz, stellt der Referent die verschiedenen prothetischen Verankerungsmöglichkeiten von herausnehmbarem Zahnersatz vor. Dabei werden Vor- und Nachteile der einzelnen vorgefertigten und individuellen Verbindungselemente aufgezeigt. Auch geht der Referent auf die Retentionskräfte der Verbindungselemente ein.
Zum Schluss des Vortrages wird eine evidenz-basierte Zusammenfassung gegeben, welche dem Behandler sowohl für die Wahl des Verbindungselementes, als auch zur Patienteninformation behilflich sein soll.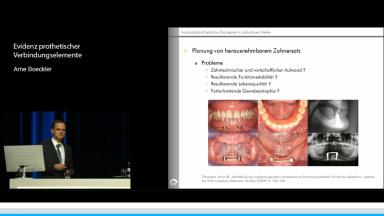 Nach dieser Vorlesung sollten Sie:
die verschiedenen Faktoren, die bei Planung und Auswahl der Verbindungselemente bei herausnehmbarem Zahnersatz von Bedeutung sind, kennen
das Wissen zur aktuellen Evidenz auf diesem Gebiet erworben haben
Duration

31 minutes

Source

ITI Kongress Deutschland, 2015

CPD/CME

0.52 hours

Purchase price

16 Academy Coins
Share this page
Download the QR code with a link to this page and use it in your presentations or share it on social media.
Download QR code