Structured Assessment and Treatment Planning
Evaluation du risque esthétique en implantologie orale maxillaire antérieure unitaire
La présentation s'attache à détailler en quoi l'implantation en zone esthétique constitue un challenge lorsqu'il s'agit de réhabiliter la fonction sans oublier de rétablir l'esthétique. A travers quelques cas cliniques, le Dr Eycken s'appuie sur la classification SAC de l'ITI pour évaluer la complexité du cas et y apporter la solution thérapeutique adaptée. Il revient également sur l'importance du positionnement de l'implant dans les 3 sens de l'espace et sur la qualité des tissus mous environnants.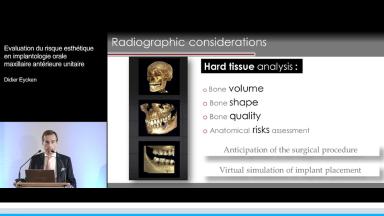 À la fin de cette présentation, vous devriez être en mesure…
de cerner les situations cliniques à risque dans le cadre de la pose d'un implant au maxillaire antérieur
de positionner un implant correctement dans les 3 plans de l'espace
d'utiliser et lire le tableau SAC de l'ITI treatment guide
Duration

33 minutes

Source

ITI Congress France 2016

CPD/CME

0.57 hours

Purchase price

17 Academy Coins
Share this page
Download the QR code with a link to this page and use it in your presentations or share it on social media.
Download QR code