Surgical Planning and Procedures
Estetik Tek Diş İmplantlarda İş Akışı
Bu konuşmada, estetik bölgede tek diş eksikliklerindeki iş akışı anlatılmaktadır. Estetik alanın tarifi yapılmakta ve zorlukları paylaşılmaktadır. Bu bölgede cerrahi olarak uygulanabilecek yaklaşımların detayları, yönlendirilmiş kemik rejenerasyonu, yumuşak dokudan beklenilenler, protetik aşamada hem geçici hem de daimi restorasyonların yapımında dikkat edilmesi gerekenler, dayanak seçiminde dikkat edilmesi gerekenler anlatılmaktadır.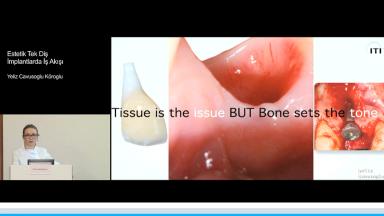 Bu konferansın dinlenmesiyle, dişhekimleri aşağıda belirtilen ana başlıklarda bilgi sahibi olurlar:
Estetik bölgenin gereksinimlerini kavrayabilecek
Yönlendirmeli kemik rejenerasyonu ile ilgili bilgi sahibi olabilecek
Estetik bölgede başarılı restorasyonlar yapabilmek için dikkat edilmesi gereken önemli hususlar hakkında bilgi sahibi olabilecektir
Duration

66 minutes

Source

ITI Congress Turkey & Azerbaijan 2016

CPD/CME

1.1 hours

Purchase price

33 Academy Coins
Share this page
Download the QR code with a link to this page and use it in your presentations or share it on social media.
Download QR code