Surgical Planning and Procedures
Erweiterte therapeutische Optionen mit schmalen zweiteiligen Implantaten mit einem Durchmesser kleiner als 3 mm
Die strikte Einhaltung der Abstand- und Positionierungsregeln ist essentiell für den Langzeiterfolg eines Implantates. Von daher stellen insbesondere Einzelzahnlücken, welche für den Einsatz konventioneller Implantate zu schmal sind, eine klassische Indikation für den Einsatz durchmesserreduzierter Implantate dar. Gerade die Verwendung moderner SDI-Implantate mit einem Durchmesser von 2,9mm stellt maximale Anforderungen an Implantatlegierung, Oberflächeneigenschaften und Art der Ankopplung. Dieser Vortrag stellt Ihnen anschaulich Indikationen, Möglichkeiten, aber auch Grenzen für den Einsatz extrem schmaler zweiteiliger Implantate vor.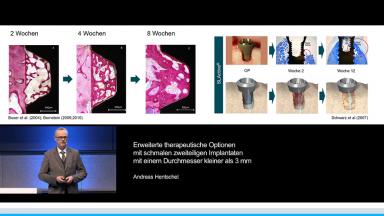 Nach dieser Vorlesung sollten Sie...
die Implantat-bezogenen Abstands- und Positionierungsregeln kennen
die Indikationen für den Einsatz von deutlich dimensionsreduzierten Implantaten (Durchmesser: 2,9mm) kennen
die mechanischen und biologischen Eigenschaften der Legierung Roxolid® (TiZr) kennen
die chemischen und biologischen Eigenschaften der SLActive® Oberfläche erklären können
die strukturellen Besonderheiten des SDI-Implantates samt klinischer Relevanz beschreiben können
erklären können, warum es z.B. für die SDI-Implantate kein einheitliches Bohrprotokoll gibt
Duration

15 minutes

Source

ITI Congress Germany 2018

CPD/CME

0.27 hours

Purchase price

8 Academy Coins
Share this page
Download the QR code with a link to this page and use it in your presentations or share it on social media.
Download QR code