Treatment Outcomes and Continuing Care
Enfoques en el Tratamiento de la Peri-implantitis
La periimplantitis constituye uno de los grandes retos a los que se enfrenta el profesional en cuya actividad diaria se incluye la colocación de implantes. Esta conferencia comienza con una introducción de aquellos aspectos que pueden interesar al clínico acerca de esta patología tales como el concepto, su prevalencia y los factores de riesgo que pueden contribuir a la aparición de este problema, mediante una revisión de la literatura de forma clara y concisa. El punto central de la conferencia lo constituye el manejo clínico de esta complicación. Se revisan tanto el tratamiento no quirúrgico como el quirúrgico, en sus diferentes modalidades y combinaciones, sus objetivos, su secuencia, los resultados que se pueden esperar obtener, y por último, los "pros" y "contras" de cada uno de ellos. Todo ello sin olvidar de que a día de hoy el mejor arma de la que disponemos frente a este problema es sin duda, la prevención mediante el establecimiento de un programa de mantenimiento adecuado.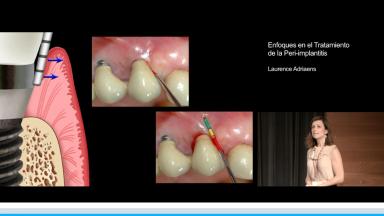 Tras la visualización de la presentación, debería ser capaz de...
diagnosticar la enfermedad periimplantaria y conocer los factores de riesgo asociados a la misma
seleccionar el tratamiento más adecuado para cada caso de periimplantitis en base a la evidencia disponible
ser consciente de la necesidad de establecer un programa de mantenimiento que sea capaz de promover la salud de los tejidos periimplantarios en los pacientes portadores de implantes
Duration

51 minutes

Source

Congreso Ibérico ITI 2015

CPD/CME

0.43 hours

Purchase price

26 Academy Coins
Share this page
Download the QR code with a link to this page and use it in your presentations or share it on social media.
Download QR code