Surgical Planning and Procedures
Elévation du plancher sinusien par la technique des sinus ostéotomes: techniques, indications et résultats à long terme
Cette présentation expose les techniques d'augmentation sinusienne, en particulier celle d'élévation du plancher sinusien par voie crestale à l'aide d'ostéotomes.
La réhabilitation implantaire du maxillaire postérieur fait face à deux difficultés : une hauteur osseuse infra-sinusienne fréquemment diminuée ainsi qu'une faible densité osseuse. Dans un souci permanent de simplification des thérapeutiques chirurgicales l'utilisation de la technique des ostéotomes permettrait, selon Dr Nedir, de traiter un plus grand nombre de patient et ce de manière prédictible. Il détaille l'utilisation de cette technique dans sa pratique privée et au travers de différentes études cliniques réalisées avec un suivi allant jusqu'à 10 ans.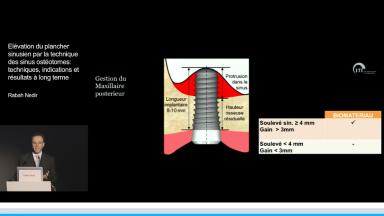 A la fin de cette présentation, vous devriez être en mesure…
de savoir poser l'indication de la technique des sinus ostéotomes
d'établir un protocole d'utilisation de la technique des ostéotomes avec et sans utilisation de biomatériaux
de connaitre les limites de cette technique, laissant alors place à la technique par voie latérale
Duration

45 minutes

Source

ITI Congress Francophone 2018

CPD/CME

0.77 hours

Purchase price

23 Academy Coins
Share this page
Download the QR code with a link to this page and use it in your presentations or share it on social media.
Download QR code