Treatment Outcomes and Continuing Care
Doenças Peri-implantares: Porque Elas Ocorrem?
Esta aula tem como objetivo, mostrar a estreita relação entre a presença da placa bacteriana e o desenvolvimento das doenças perimplantares, confrontando princípios clássicos da origem das doenças perimplantares com princípios alternativos, assim como relatar os tipos de doenças ao redor dos implantes. Por meio de estudos epidemiológicos mais citados na literatura relata a prevalência das doenças perimplantares ao redor do mundo e em nosso país. Através da apresentação de trabalhos científicos padronizados, suportados por evidência científica, a aula relata a íntima relação entre presença de placa bacteriana e as doenças perimplantares independentemente se a sua atuação é primária ou secundária.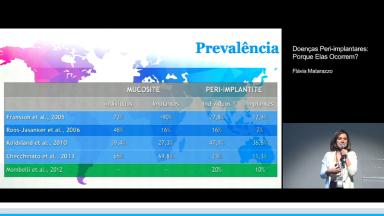 Ao final desta aula de congresso você deve ser capaz de:
Descrever as etiologias e tipos de doenças perimplantares
Discutir a diferença entre conceitos clássicos de etiologia de doença perimplantar e conceitos alternativos
Identificar a relação entre placa bacteriana e doença perimplantar
Reconhecer o efeito da placa bacteriana sobre os implantes à longo prazo
Saber que a placa bacteriana não pode ser descartada dos fatores que levam à perda óssea marginal.
Duration

24 minutes

Source

ITI Congress Brazil 2015

CPD/CME

0.4 hours

Purchase price

12 Academy Coins
Share this page
Download the QR code with a link to this page and use it in your presentations or share it on social media.
Download QR code