Prosthodontic Planning and Procedures
Digital Workflow 2018 en secteur esthétique
Au cours de cette présentation, le Dr Finelle nous montre tout l'intérêt du digital workflow dans une réhabilitation implantaire en secteur esthétique. Ainsi, à chaque étape de celle-ci, le numérique peut intervenir : au cours du diagnostic, de la chirurgie, de l'empreinte ou encore au cours de la réalisation prothétique.
Au travers de plusieurs cas cliniques, il nous est montré comment différents outils numériques permettent de préparer et d'obtenir une réhabilitation esthétique optimale. Au final, le digital workflow va apporter précision, prédictibilité, facilité de reproduction des formes dans la réhabilitation prothétique implantaire ; c'est également un formidable moyen de communication avec le patient.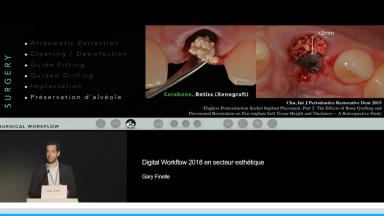 À la fin de cette présentation, vous devriez être en mesure…
de comprendre l'apport du numérique dans une réhabilitation esthétique
de décrire le workflow numérique du diagnostic à la prothèse définitive
de savoir optimiser la forme d'une réhabilitation prothétique à l'aide du numérique
Duration

48 minutes

Source

ITI Congress Francophone 2018

CPD/CME

0.8 hours

Purchase price

24 Academy Coins
Share this page
Download the QR code with a link to this page and use it in your presentations or share it on social media.
Download QR code