Prosthodontic Planning and Procedures
Digital Prosthetics, Ready for Prime Time?
The earliest descriptions of prosthesis fabrication using digital information only, occurred over 30 years ago. Although the earliest reports were probably perceived as nothing more than futuristic predictions we currently have reached the point that was previously described as the future.
Virtually all clinicians who are involved in the treatment of implant dentistry utilize digital procedures at one level or another. Radiography will never return to analog. Further, the gradual erosion in the number of dental laboratory technicians has led to a dramatic increase in the number of fixed dental prostheses that are designed and manufactured entirely through computer assisted methods.
The greatest risk to the embracement of digital technology is associated with the selection of the wrong technology rather than the technology that survives. Unfortunately this situation is not always dependent upon survival of the fittest but may instead be related to survival of the most financially competent.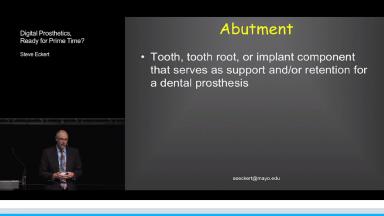 Duration

57 minutes

Source

ITI Congress Southern Africa 2013

CPD/CME

0.95 hours

Purchase price

28 Academy Coins
Share this page
Download the QR code with a link to this page and use it in your presentations or share it on social media.
Download QR code