Prosthodontic Planning and Procedures
Die verschraubte vollkeramische Einzelzahnrestauration
Dr. Vietor gibt einen Überblick über das prothetische Thema der verschraubten einteiligen Implantatrestaurationen aus Vollkeramik für die Einzelzahnversorgung. Indikationen und Kontraindikationen dieser individualisierten anatomisch reduzierten Abutments aus Zirkonoxid, die direkt mit Verblendmaterial verblendet werden und als quasi monolithische Restaurationen im Implantat verschraubt sind, werden detailliert behandelt.
Ergänzt wird die Thematik durch Beispiele aus langjähriger Praxiserfahrung, auch zu Grenz-und Kontraindikationen.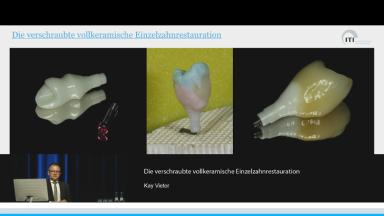 Nach dieser Vorlesung sollten Sie:
Indikationen und Kontraindikationen der verschraubten monolithischen Einzelzahnversorgung aus Keramik kennen
deren Vor-und Nachteile beurteilen können
Wissen zur Langzeitstabilität erworben haben
Duration

15 minutes

Source

ITI Kongress Deutschland, 2015

CPD/CME

0.25 hours

Purchase price

8 Academy Coins
Share this page
Download the QR code with a link to this page and use it in your presentations or share it on social media.
Download QR code