Surgical Planning and Procedures
Die ästhetisch kritische Zone – Sofortimplantate oder verzögerte Verfahren?
Die Entfernung eines Zahns im Frontzahnbereich stellt uns vor die Qual der Wahl bezüglich der geeigneten Therapieoption. Sollen wir sofort ein Implantat setzen, eine Ridge-Präservation durchführen oder die Alveole doch spontan abheilen lassen? Welche Vor- und Nachteile haben die unterschiedlichen Herangehensweisen? Welchen Einfluss hat die Defektsituation der Alveole bei verzögerten Verfahren auf die Augmentation von Hart- und Weichgewebe? Diese Präsentation gibt Antworten auf diese komplexen Fragestellungen.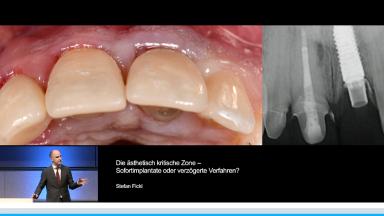 Nach dieser Vorlesung sollten Sie...
die Voraussetzungen und das chirurgische Vorgehen einer Sofortimplantation erklären können
Optionen zur Sofortversorgung bei Sofortimplantation kennen
die Voraussetzungen und das chirurgische Vorgehen zur Ridge-Präservation erklären können
den Einsatz von Biomaterialien und autologen Transplantaten diskutieren können
Duration

22 minutes

Source

ITI Congress Germany 2018

CPD/CME

0.37 hours

Purchase price

11 Academy Coins
Share this page
Download the QR code with a link to this page and use it in your presentations or share it on social media.
Download QR code