Surgical Planning and Procedures
Die Bonesplitting-Stabilisationstechnik zur Vermeidung von Resorption bei extremen Atrophien – klinische und tierexperimentelle Untersuchungen
In der Präsentation, die im Rahmen des deutschen ITI Kongresses in Dresden 2015 gehalten wurde, stellt Herr Dr. Stricker die tierexperimentellen Daten zu vielen bisher offenen Fragen zum chirurgischen Vorgehen beim Bone Splittings dar:
Zunächst geht es um die Frage, ob eine Auffüllung des Osteotomiespaltes beim Bone Splitting notwendig ist. Außerdem adressiert er die Frage der Stabilität der bukkalen Lamelle in Abhängigkeit von der Art der Lappenbildung. Auch die Frage, ob und wie eine gleichzeitige Augmentation erfolgen sollte, wird in seiner Präsentation auf Basis tierexperimenteller Daten beantwortet.
Nach der Präsentation können Sie einschätzen, ob die Auffüllung des Osteotomiespaltes beim Bone Splitting erforderlich ist, sowie welches die Vor- und Nachteile der Lappenbildung und zeitgleicher Augmentation beim Bone Split sind.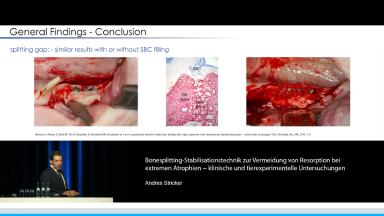 Nach dieser Vorlesung sollten Sie:
den theoretischen Hintergrund des Bone Splittings beschreiben können
die Bedeutung der Präparationstechnik des Periostes kennen
die Bedeutung einer zusätzlichen Augmentation kennen
Duration

14 minutes

Source

ITI Kongress Deutschland, 2015

CPD/CME

0.23 hours

Purchase price

7 Academy Coins
Share this page
Download the QR code with a link to this page and use it in your presentations or share it on social media.
Download QR code