Structured Assessment and Treatment Planning
Confiabilidade do Planejamento Digital
Nesta palestra o Dr. Waldemar Polido fala sobre a Confiabilidade do Planejamento Digital. Durante a apresentação o professor discorre sobre a diferença entre a precisão e a acurácia e compara os métodos digitais e convencionais para o planejamento da instalação de implantes dentários . Descreve o funcionamento , as indicações e as vantagens e desvantagens entre as duas técnicas.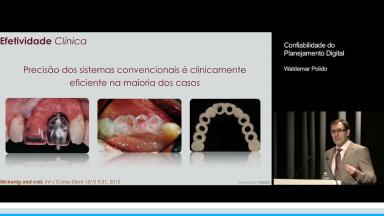 Ao final desta aula de congresso você deve ser capaz de:
Identificar os componentes da planejamento digital, suas características e como eles funcionam
Entender a precisão e acurácia do sistema de planejamento digital e os fatores que as influenciam diretamente; assim como suas indicações clínicas
Reconhecer as vantagens e desvantagens do sistema de planejamento digital quando comparado ao sistema de planejamento convencional, assim como as evidências científicas de ambos
Reconhecer que a tecnologia necessita estar intimamente relacionada ao desenvolvimento de técnicas de execuções manuais; com uso de ferramentas e componentes específicos
Reconhecer que o planejamento digital também segue o princípio do "Top Down planning", onde a prótese final norteia os passos e regras da reabilitação final.
Duration

60 minutes

Source

ITI Congress Spain 2015

CPD/CME

1 hours

Purchase price

30 Academy Coins
Share this page
Download the QR code with a link to this page and use it in your presentations or share it on social media.
Download QR code