Structured Assessment and Treatment Planning
Complicaciones y Soluciones en Rehabilitación Oral Implantoasistida
El Dr. Gallucci describe el tratamiento paso a paso de dos casos clínicos desde el inicio hasta su rehabilitación implantoasistida. Esta conferencia interactiva con voto electrónico de los participantes es una metodología muy didáctica, permite desarrollar y dar especial importancia al plan de tratamiento y sus diversas alternativas que serán evaluadas una por una.
El desarrollo de la imagenología 3D permite una visión clara y detallada de la calidad y cantidad de hueso disponible en relación a las piezas a reponer, y nos permite realizar una guía quirúrgica de precisión, que permite a través de ella, técnicas quirúrgicas minimamente invasivas (flapless).
Esta presentación se reduce a la descripción de dos casos clínicos, de inicio a fin, visualizando sus complicaciones y las soluciones, utilizando el método didáctico de debate interactivo por votación electrónica de los participantes en la sala.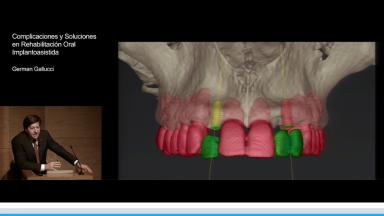 Al finalizar esta conferencia, el profesional deberá ser capaz de...
dar importancia a un correcto plan de tratamiento
elaborar una adecuada cronología de tratamiento
visualizar las diferentes alternativas terapeúticas y argumentar y elegir la indicada
mantenernos mínimamente invasivos y eficaces en el tratamiento favoreciendo al paciente
Duration

64 minutes

Source

Congreso Nacional ITI de Chile 2015

CPD/CME

1.07 hours

Purchase price

32 Academy Coins
Share this page
Download the QR code with a link to this page and use it in your presentations or share it on social media.
Download QR code