Treatment Outcomes and Continuing Care
Complicaciones Mecánicas en Prótesis Implantosoportadas con Cantilevers
En esta conferencia, la Dra. Iria López habla acerca de las complicaciones que pueden presentarse en prótesis diseñadas con cantiléver. La Dra López lleva su exposición de una forma organizada, en la que primero, fundamenta la relevancia del tema y la frecuencia con la que este tipo de tratamientos se llevan a cabo. Posteriormente hace un análisis tanto de las diferentes circunstancias en las que un cantiléver puede ser utilizado y el tipo de complicaciones protésicas que se pueden presentar. Muestra una excelente selección de artículos que brindan evidencia no solo de las complicaciones protésicas, sino incluso del comportamiento biológico de los implantes que soportan este tipo de prótesis.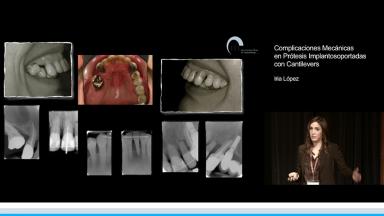 Al finalizar esta conferencia, el profesional deberá ser capaz de...
conocer el papel que juegan los diferentes diseños protésicos con cantiléver, en las restauraciones implanto-soportadas
analizar las ventajas y desventajas que estos diseños pueden brindar a los pacientes que se les aplique este tipo de tratamientos
describir las principales complicaciones que una prótesis diseñada con cantiléver puede llegar a presentar, así como las alternativas para prevenirlas y/o tratarlas
comprender el racional para un buen diseño de prótesis con cantiléver
Duration

55 minutes

Source

Congreso Ibérico ITI 2015

CPD/CME

0.93 hours

Purchase price

28 Academy Coins
Share this page
Download the QR code with a link to this page and use it in your presentations or share it on social media.
Download QR code