Surgical Planning and Procedures
Cirurgia guiada na reabilitação do edentulismo maxilar
Esta conferência discute a cirurgia guiada assistida por computador, em maxila totalmente edêntula. As guias cirúrgicas são desenhadas e impressas a partir do planejamento cirúrgico em ambiente virtual, com a utilização de programas de software de planejamento que associam exames de tomografia computadorizada (CT) da anatomia óssea do paciente ao planejamento protético. Apresenta evidências científicas sobre a vantagens clinícas e acuracidade na transferência do posicionamento do implante guiado em comparação com a instalação de implantes a mão livre. Concluindo que, por meio da sistematização do planejamento, junto a procedimentos cirúrgicos guiados, é possível otimizar a cirurgia, minimizar complicações e oferecer mais conforto para o paciente.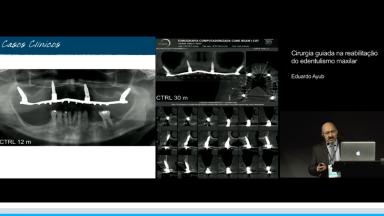 Ao final desta aula você deve ser capaz de…
explicar a aplicação da cirurgia guiada no paciente edentulo total
descrever as diferenças na abordagem cirurgico-protética convencional e guiada
discutir as vantagens e a acuracidade da cirurgia guiada em maxila totalmente edêntula
Duration

32 minutes

Source

ITI Congress Brazil 2018

CPD/CME

0.53 hours

Purchase price

16 Academy Coins
Share this page
Download the QR code with a link to this page and use it in your presentations or share it on social media.
Download QR code