Surgical Planning and Procedures
Cirurgia flapless: Manejo quirúrgico y protético de los tejidos duros y blandos en áreas estéticas
Esta presentación pretende explicar, a través de datos de la literatura, como obtener resultados estéticos con cirugía sin colgajo (flapless). Describe las ventajas del abordaje sin elevación de colgajo en sitios con mucosa ceratinizada y suficiente volumen óseo, así como las limitaciones de la técnica.
Se discuten aspectos fundamentales de los tejidos duros y blandos para obtener resultados predecibles en los casos de instalación inmediata de implantes en alvéolos post extracción (Tipo 1), centrándose en los riesgos y la necesidad de cuidadoso diagnóstico y plan de tratamiento.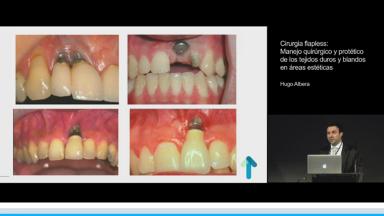 Ao final desta aula você deve ser capaz de…
identificar las indicaciones y ventajas de la cirugía sin colgajo

evaluar los factores de riesgo estético con implantes inmediatos

describir y discutir las claves para éxito estético
Duration

53 minutes

Source

ITI Congress Brazil 2018

CPD/CME

0.88 hours

Purchase price

27 Academy Coins
Share this page
Download the QR code with a link to this page and use it in your presentations or share it on social media.
Download QR code