Prosthodontic Planning and Procedures
Choix prothétiques, incidences biologiques
La finalité du traitement implantaire est une réhabilitation prothétique et fonctionnelle. Les options prothétiques (mode d'assemblage, matériaux) vont avoir des conséquences biologiques positives ou négatives. Cette présentation montre à la fois des restaurations réfléchies et bien conçues mais aussi des échecs (prothétiques et implantaires) et leurs prises en charge.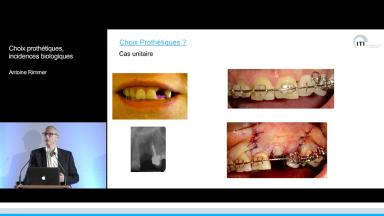 À la fin de cette présentation, vous devriez être en mesure…
de choisir le type de vos restaurations : scellées ou vissées
de choisir le type de matériaux de vos restaurations (titane, zircone, résine, céramique...)
de mieux identifier la position idéale des implants
Duration

33 minutes

Source

ITI Congress France 2016

CPD/CME

0.57 hours

Purchase price

17 Academy Coins
Share this page
Download the QR code with a link to this page and use it in your presentations or share it on social media.
Download QR code