Surgical Planning and Procedures
Chirurgia flapless: indicazioni e limiti
Questa relazione mira ad illustrare, attraverso la presentazione di casi clinici e di dati provenienti dalla letteratura, i vantaggi e i limiti di una chirurgia flapless. Il relatore espone punto per punto quelle che sono ritenute caratteristiche favorevoli di questo tipo di chirurgia, approfondendone alcuni aspetti critici. Conclude presentando le linee guida per la chirurgia flapless, ribadendo la necessità di valutare ogni caso clinico ed ogni paziente nello specifico nel momento in cui si sceglie quale tecnica chirurgica utilizzare.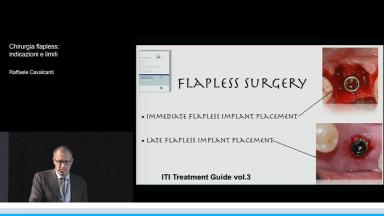 Alla fine dell'intervento si dovrebbe essere in grado di...
comprendere le criticità della chirurgia flap-less e la necessità del suo utilizzo in mano ad operatori esperti
analizzare correttamente la quantità di tessuto cheratinizzato e di modificare la chirurgia in favore di essa
riservare la chirurgia flap-less soprattutto ai casi in cui sia necessario ridurre il sanguinamento e il rischio di batteremia a causa di patologie sistemiche del paziente
Duration

36 minutes

Source

ITI Congresso Italia 2013

CPD/CME

0.6 hours

Purchase price

18 Academy Coins
Share this page
Download the QR code with a link to this page and use it in your presentations or share it on social media.
Download QR code