Treatment Outcomes and Continuing Care
Cómo Tratar las Complicaciones Estéticas
Actualmente la colocación de implantes dentales es un procedimiento clínico que se lleva cabo en la mayoria de las consultas de nuestra geografía. Este aumento pone de manifiesto el gran número de implantes colocados por año en detrimento de la conservación de los dientes de los pacientes. Este crecimiento asociado a la, en ocasiones, poca especialización de los profesionales, hace que también se incremente el porcentaje de complicaciones estéticas y biológicas de los mismos. Hoy en día los pacientes son más exigentes, la estética adquiere un rol decisivo en la percepción del éxito o fracaso de un tratamiento por parte de los mismos. Conocer estos y otros elementos se hace necesario a la hora de establecer un plan de tratamiento definitivo, considerando que la edad y el sexo son factores determinantes en esta percepción. En la presentación se exponen diferentes situaciones clínicas con sus posibles causas y los procedimientos clínicos para resolverlas, mostrando la evolución de los mismo y el resultado final.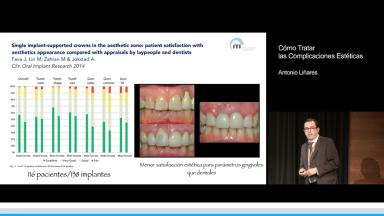 Al final de esta presentación usted debería ser capaz de...
tomar conciencia de la repercusión de los tratamientos implantológicos en el ámbito estético
tener presente como la edad y sexo influyen en la percepción de los resultados de los tratamientos estéticos
conocer los parámetros necesarios para la valoración de un caso, para evitar las posibles complicaciones estéticas y como resolverlas en caso de que aparezcan
Duration

64 minutes

Source

Congreso Ibérico ITI 2015

CPD/CME

1.07 hours

Purchase price

32 Academy Coins
Share this page
Download the QR code with a link to this page and use it in your presentations or share it on social media.
Download QR code