Surgical Planning and Procedures
Aumento ósseo vertical e horizontal com malha de titânio
Nesta apresentação são abordados alternativas para aumentoósseos com enxertos autógenos e substitutos ósseos. Também são discutidos aspectos biológicos do uso de malhas de Titânio, além dos tipos de enxerto ósseo que podem ser utilizados sob essas malhas. Outras questões relacionados ao uso de malhas de Titânio são ainda destacadas, tais como: nível de evidência, indicações, riscos e conduta em casos de exposição. Os resultados clínicos da técnica e sua versatilidade são apresentados como benefícios relevantes, comparado à outras modalidades reconstrutivas, tornando-se uma opção para corrigir defeitos em rebordos atrofiados.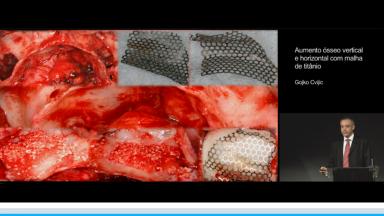 Ao final desta aula você deve ser capaz de…
conhecer o princípio biológico no uso de malhas de Titânio em Regeneração óssea de rebordos atróficos
identificar os tipos de defeitos ósseos que podem ser tratados com malhas de Titânio
discutir os benefícios e riscos do uso de malhas de Titânio na regeneração de defeitos ósseos
Duration

31 minutes

Source

ITI Congress Brazil 2018

CPD/CME

0.53 hours

Purchase price

16 Academy Coins
Share this page
Download the QR code with a link to this page and use it in your presentations or share it on social media.
Download QR code