Prosthodontic Planning and Procedures
Arbre décisionnel pour le traitement implantaire des édentements complets maxillaires
Cette présentation met en valeur l'importance de l'étude prothétique pré implantaire, de la discussion avec le patient de son besoin, de son projet prothétique et de la prise de sa DV. Le positionnement des incisives centrales maxillaires permettant de déterminer de façon pertinente le choix prothétique adapté au patient : bridge avec ou sans fausse gencive, ou overdenture sur locator ou piliers télescopiques.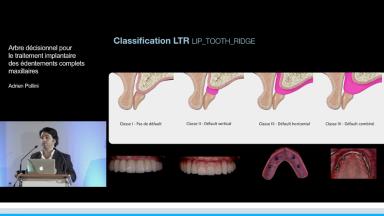 À la fin de cette présentation, vous devriez être en mesure…
d'établir, en accord avec le patient, le plan de traitement prothétique le plus approprié : Bridge (avec ou fausse gencive) ou overdenture (sur piliers télescopiques, sur locator, sur barre)
Duration

41 minutes

Source

ITI Congress France 2016

CPD/CME

0.7 hours

Purchase price

21 Academy Coins
Share this page
Download the QR code with a link to this page and use it in your presentations or share it on social media.
Download QR code