Prosthodontic Planning and Procedures
Antingindo Estética Integrando Dentes Naturais e Implantes
O tema da aula aborda como alcançar a estética quando o tratamento apresenta dentes naturais e implantes, principalmente quando os dentes naturais apresentam algum tipo de comprometimento. São apresentados dados sobre a prevalência dos implantes, e a abordagem da aula é clínica apresentando detalhadamente um caso, onde é mostrado o passo a passo da sequência de tratamento desde o exame clinico até a fase de terapia propriamente dita com a cimentação de coroas, facetas e colocação da coroa sobre implante. É dada ênfase à classificação SAC e ao planejamento digital de cada caso. O material fotográfico apresentado pelo Dr. Canto é de extrema qualidade, detalhando inclusive algumas nuances das fotografias para a definição da cor, textura e luminosidade dos dentes.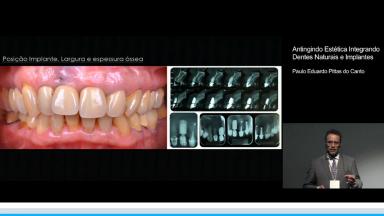 Ao final desta aula você será capaz de:
Explicar a importância do correto exame clinico, diagnóstico e plano de tratamento para casos que envolvam dentes e implantes
Identificar um protocolo adequado de comunicação com o laboratório de prótese
Reconhecer várias abordagens para as diferentes fases do tratamento para dentes e implantes
Discutir a importância da classificação SAC para o planejamento dos casos que envolvem estética
Reconhecer a importância da comunicação do profissional com o laboratório de prótese
Duration

31 minutes

Source

ITI Congress Brazil 2015

CPD/CME

0.53 hours

Purchase price

16 Academy Coins
Share this page
Download the QR code with a link to this page and use it in your presentations or share it on social media.
Download QR code