Prosthodontic Planning and Procedures
Ajuste Marginal e Ajuste Passivo: São Realmente Importantes?
Esta conferencia permitira entender a importância do ajuste Marginal e do ajuste passivo com a literatura mais atual. São explicados de uma forma simples estes dois conceitos, as suas causas e complicações, bem como as formas de diagnostico de verificação e as técnicas que o clinico poderá utilizar para diminuir estes desajustes.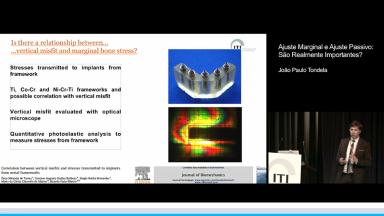 Ao final desta aula você será capaz de entender:
Definição de ajuste marginal e ajuste passivo
Causas de desadaptação marginal e da falta de ajuste passivo
Complicações
Biomecânica das conexões
Formas diagnostico/ verificação do ajuste passivo
Técnicas para minimizar desajustes
Duration

62 minutes

Source

Congreso Ibérico ITI 2015

CPD/CME

1.03 hours

Purchase price

31 Academy Coins
Share this page
Download the QR code with a link to this page and use it in your presentations or share it on social media.
Download QR code