Prosthodontic Planning and Procedures
Ağız içi Tarayıcılarda Klinik ve Laboratuvar İş Akışı
Bu konferansta Dr. Kivanç Akça, dijital dishekimligi, Cad-Cam dogal dis destekli ve implant destekli protezler konusunda bilgiler vermektedir. Dijital implant ölçüsü hakkinda klinik ve laboratuvar is akisi ayrintili olarak aktarilmaktadir. Bunun yanisira, günümüzde dijital dishekimliginde kullanilmakta olan sistemler karsilastirilmali bir sekilde degerlendirilmektedir.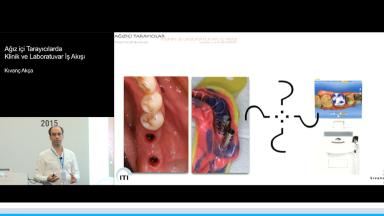 Bu konferansin dinlenmesiyle, dishekimleri asagida belirtilen ana basliklarda bilgi sahibi olurlar:
Siman ve vida tutuculu protezler ve bunlarin karsilastirilmali avantaj ve dezavantajlarinin degerlendirilmesi
Cad-Cam dishekimliginin degerlendirilmesi
Dijital implant ölçüsünün degerlendirilmesi ve klinik ve laboratuvar is akisi
Dijital Dishekimliginde tarayici sistemlerin karsilastirilmasi ve degerlendirilmesi
Duration

55 minutes

Source

ITI Section Meeting Turkey 2015

CPD/CME

0.93 hours

Purchase price

28 Academy Coins
Share this page
Download the QR code with a link to this page and use it in your presentations or share it on social media.
Download QR code