Surgical Planning and Procedures
Aşırı Kemik Kaybı Olan Çenelerde Straumann Pro Arch Yöntemi Ile İmplant Üstü Sabit Rehabilitasyon
Dr. Eskan bu konferansta, aşırı rezorbe olmuş çenelerde dört implantla desteklenen bir implant üstü sabit rehabilitasyon olan Straumann Pro Arch tekniğini, sonlandırdığı vakaları eşliğinde tanıtmaktadır. Son dönemde bu tip vakalarda uygulanmaktda olan bu yöntem, anında implantasyon ve anında yükleme kavramlarını üzerine inşa edilmiş, hastalar adına doğru vaka seçimlerinde birçok yarar sağlamıştır.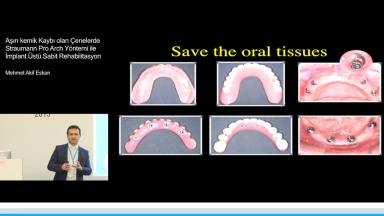 Bu konferansın sonunda dinleyiciler, aşağıda belirtilen ana başlıklar hakkında ayrıntılı bilgi sahibi olurlar:
Straumann Pro Arch tekniğinin genel hatları
Anında implantasyon ve anında yükleme kavramları
Tekniğin Endikasyonları ve Tedavi Planlaması
Bu tekniğin uygulaması, cerrahi ve protetik yapım aşamaları
Başarı kriterleri ve başarı oranları
Duration

45 minutes

Source

ITI Section Meeting Turkey 2015

CPD/CME

0.77 hours

Purchase price

23 Academy Coins
Share this page
Download the QR code with a link to this page and use it in your presentations or share it on social media.
Download QR code