Treatment Outcomes and Continuing Care
¿Por qué se Pierde el Hueso Marginal a Corto Plazo y Cómo Evitarlo?
El objetivo de esta conferencia es revisar las posibles causas de la pérdida ósea marginal temprana alrededor de los implantes. Se sugiere una definición para este fenómeno y su posible correlación con el comienzo de la periimplantitis. El Dr. Orsini, presenta abundante material gráfico con ejemplos de pérdida ósea marginal temprana a fin de enumerar las distintas situaciones clínicas asociadas a este suceso. Finalmente se procede a proporcionar una serie de recomendaciones clínicas y biológicas para reducir la pérdida ósea marginal temprana, apoyadas en una amplia revisión de la literatura disponible.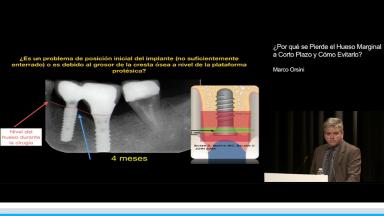 Al finalizar la visualización de esta presentación, debería ser capaz de...
reconocer las principales causas por las que se produce la pérdida ósea marginal temprana
disponer de todos los elementos necesarios para la realización de un diagnóstico preciso
distinguir entre la pérdida ósea marginal temprana y una periimplantitis en estadío inicial
conocer las potenciales intervenciones terapéuticas que se pueden llevar a cabo a fin de reducir el comienzo de la pérdida ósea temprana
Duration

52 minutes

Source

Congreso Ibérico ITI 2015

CPD/CME

0.87 hours

Purchase price

26 Academy Coins
Share this page
Download the QR code with a link to this page and use it in your presentations or share it on social media.
Download QR code